Welcome to Arvon Township Historical Society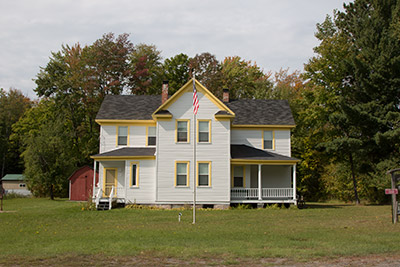 Arvon Township Historical Museum
The Arvon Township Historical Museum is located at the intersection of Upper Skanee and Roland Lake Road in Skanee, Michigan. The museum sits directly across the road from the Zion Lutheran Church.
The museum was originally a parsonage built between 1907-1908 for the Zion Lutheran Church. Shortly after the parsonage was built, there seemed very little use for it as Skanee couldn't afford a full time pastor. For many years the church council discussed what should be done with the building as it was slowly deteriorating and becoming a liability. Although the Arvon Township Historical Society was allowed to use the parsonage for historical tours and related activities they did not have the authority or money to repair the building. The issue was resolved in 2002 with the Arvon Township Historical Society purchasing the parsonage at the cost of $1.00 and thus becoming the Arvon Township Historical Museum.
The museum is a roomy, structurally sound, two-story building complete with the 'comforts of home' from the late 1800's to the mid 1900's. Every year, the historical society sponsors a special activity to encourage people to visit and appreciate Arvon Townships' history. In the past, people have gathered at the museum to attend handmade quilt displays, pie socials, historical tours, pageants, historical re-enactments, raffles and a variety of other activities. Funds or donations received are used to help cover the cost of maintaining the museum.
Make this year the year to visit Arvon Township's places of interest and enjoy our rural, hometown hospitality!
Open: June – August, Saturdays 10 a.m. – 2 p.m.