Old Ravine River Cemetery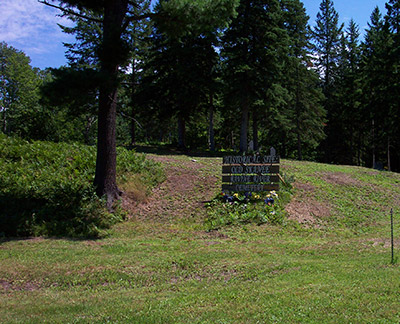 The Old Skanee Ravine River Cemetery is the oldest cemetery in Arvon Township. The graves of the seven Hawkinson children, who died of diphtheria in 1882, are marked with large pieces of slate from the Arvon Quarry. This cemetery is on the Lundberg homestead. In 1903, the Lundbergs gave an additional acre for the expansion of this cemetery site. It has a deed which states that it is for the future use of the Lundberg's descendants, as well as those of several other original homesteaders. In 2008, the living Lundberg descendants had a stone marker placed on the gravesite of Mr. and Mrs. Lundberg. Take Sicotte Road to see this historical site.
Skanee Cemetery
The Skanee Cemetery is located on Cemetery Road off the Lower Skanee Road in Arvon Township, Skanee, Michigan. Several acres of coniferous forest has been set aside to bury those that have died and hold a special place in our hearts. A roster of all those buried has been updated and is accessible on this page.
Each year on Memorial Day, there is a special tribute for those men & women who have served our country and have died before us. If you have a veteran buried at the Skanee Cemetery, please feel welcome to join us in that celebration of life.
Here is plot list of the Skanee cemetery.